About
Since the time of its establishment,
the Uchigasaki brewery has had more than
350 years of history and traditions.
Our sake brewery can be found in Tomiya city located some 400 km north of Tokyo and just north of Sendai city, the largest city in the Tohoku region.
Tomiya city has recently been experiencing growth as a commuter town.
The Uchigasaki family forefather, Oribe Uchigasaki, helped to establish Tomiya as a post town for the Oshu Highay ( Road ) which connected Edo ( today' s Tokyo ) and Tohoku region in 1620 ( during 1603-1868 ).
The Tomiya post was commissioned at the behest of Sendai' s founding lord, Masamune Date.
The second master of our family, Sakuemon Uchigasaki, launched the sake brewery in 1661. Since then we have been brewing our brand of sake for over 350 years.
Our company is the oldest brewery in Miyagi prefecture.
We brew traditional handmade sake with an eye on freshness and taste.
It' s the sake the locals enjoy drinking.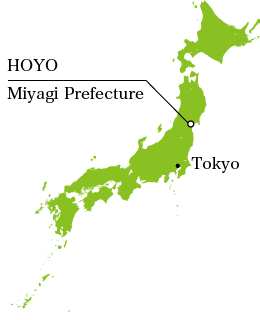 ---

Hoyo Sake

Tomiya City

The countryside
---
The origin of the name of HOYO
HO means a phoenix in Chinese. YO means sunlight in Chinese. In Chinese folklore, when a phoenix sings in the sunlight in the morning of New Year' s Day in the eastern sky, disaster is avoided and good luck appears. Based on this Chinese folklore and our wish for good luck, we named our sake HOYO.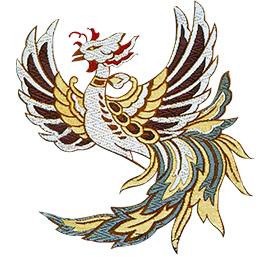 ---
Export abroad
Our company began exporting our brand of sake in 2001 and we now ship to America, England and Hong Kong.
Both our " Daiginjo HOYO-yamadanishiki" and " Junmai Daiginjo HOYO (kuranohana)" brand sakes won gold medals in the U.S.National Sake Appraisal ( The Joy of Sake ) sponsored by the Kokusai Sake Kai whose aim since 2001 has been to introduce Japanese sake abroad in Honolulu.
Our " Junmai Daiginjo HOYO" won a gold medal and a Miyagi trophy in the sake category at the International Wine Challenge ( IWC ) in London in 2009 which is the largest wine fair in the world.
"Berry Bros. Rudd ( BB & R )" of London in 2011, a purveyor to the British Royal Household wine shop, selected our " Tokubetsu Junmaishu HOYO-genji" as the first sake that the shop would sell.
Established in 1698, BB & R is the oldest wine shop in England. It sells alcoholic beverages of exceptional quality all over the world.
It is our goal to brew better Japanese sake that people around the globe will enjoy drinking.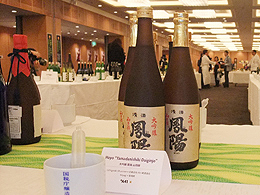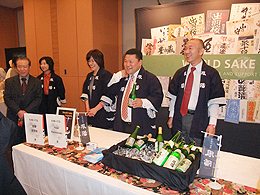 ---
Company info
Company name

Uchigasaki Brewery Limited Partnership

Address

27 Tomiya Shinmachi, Tomiya, Miyagi, 981-3311, Japan TEL:+81-22-358-2026
---
Links
・World Sake Imports

・Journey in Miyagi
---